Grand Traverse County Bail Bonds Agent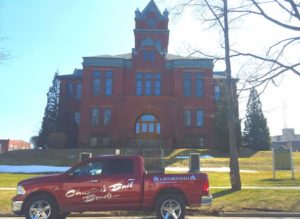 Office Information:
PO Box 1543
Traverse City, MI 49685
Posting Grand Traverse County Bail Bonds at the Traverse City Jail can be done 24 hours a day, 7 days a week by Christine's Bail Bonds. Local Agent, Penny Jenema, will gladly assist you in this time of need. She has a passion for the bail bond business and it shows. Penny will walk you through the entire process of "posting" a bail bond for your friend or loved one. She will do everything to make this unfortunate circumstance a simple and quick procedure. Grand Traverse county bail bonds typically take less than 1 hour to post. Of course this depends on a few things:
Time of Day
Workload of the Jail
Arraignment Schedule
Shift Changes and Meals
Warrant Verification
To ensure the Grand Traverse County bail bonds process goes as smooth as possible, please make sure Penny knows the following about the accused:
Possible Outstanding Warrants
Criminal History
Any Pending Court Cases
Prescription Medications
We are here to provide the community with a professional business in a prompt and ethical manner. All of our Bail Bond Agents are licensed by the State of Michigan and approved to "write" bail bonds in every county in the state.
280 Washington Street
Traverse City, MI 49684
(231) 922-4580
328 Washington Street,
Traverse City, MI 49684
A Brief History of Grand Traverse County
If Michigan is viewed as a hand, Grand Traverse County is located at the base of separated ring and pinky fingers with the Old Mission Peninsula between them. Traverse City, the largest city in the county, began as a lumber town in the 1850s. Lumber barons viewed the area's easy access to shipping on Lake Michigan as highly favorable.
Traverse City might have landed on hard times after the lumber industry declined, as Muskegon did, except for two factors: tourism and the cherry industry. Indeed, just as the lumber industry was getting underway, it was discovered that cherry trees flourished in the area. The waters of Lake Michigan protected the crop from the severe cold of Midwestern winters and its excessively hot summers.
Today, Michigan grows three-quarters of the nation's tart cherry crop – which is why Traverse City is known as the Cherry Capital of the World. Accordingly, each year more than a half million people attend the city's week-long National Cherry Festival (ongoing since 1926). With an abundance of lakes and beautiful scenery, the area has become known as a premier vacation community.
The vacation atmosphere of places like Traverse City occasionally lends itself to overindulgence and mischief. If you find yourself in a tough spot after an evening of revelry, there are people in Grand Traverse County who can help get you out of trouble. Do not hesitate to call Christine's Bail Bonds if you need this kind of assistance. We are available to help residents and tourists alike.